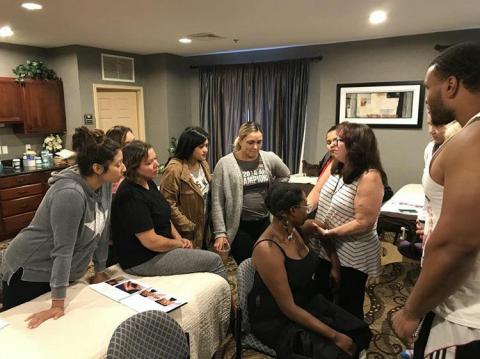 Continuing education is a priority for our service providers at spa nijoli and salon. Our massage therapists recently had the opportunity to learn first hand from the talented Shamaya Chah of Massage Educators - MRI (Musculoskeletal Rehab, Inc).
Shamaya has over 30 years of experience in advanced therapeutic modalities. A therapeutic modality is an intervention used to heal someone. Believe it or not, the relaxing massages we offer at spa nijoli are just one example of the modalities used around the world.

Shamaya offers our massage therapists a unique perspective and teaches students how to incorporate different modalities into their massage, especially when guests have specific aches and pains. For example; using a lymphatic drainage technique to help ease the inflammation of a bug bite.

During the class we learned a targeted technique for reducing the impact of painful menstrual cramps-- which we were surprised to learn can be relieved behind the knee in just 15 seconds!

Shamaya is a vast resource of massage knowledge, tips, and tricks! She even demonstrated how to reduce the appearance and 3D effect of keloid scarring via a simple massage technique.
Stay tuned for more from our talented massage therapists! Book your massage today at 978 682 9772 or get your e-gift certificate here :)