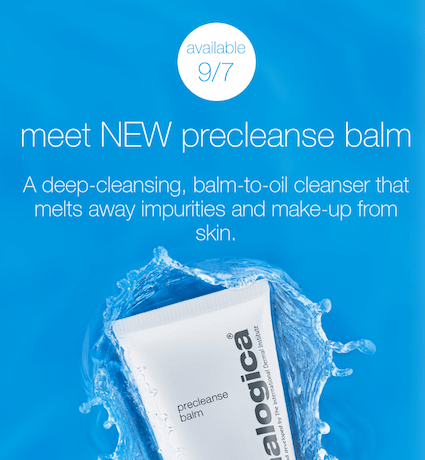 Coming to spa nijoli & salon Thursday, 9/7! If you're a fan of Dermalogica's Precleanse Oil, you will love the all new Precleanse Balm! This water-activated cleanser deconstructs layers of excess oil, waterproof make-up, environmental pollutants and residual product buildup on skin. 
The all new hydrating Precleanse Balm contains a Natural Biolipid Complex that reinforces the skin barrier, and Apricot Kernel Oil that nourishes skin-- making it ideal for dry and normal skin types.
how to use
Squeeze some Precleanse Balm onto your cleansing mitt or right onto your (dry) palm. Massage product into dry skin in circular motions. Add water to emulsify, and rinse away! Follow up with your go-to Dermalogica cleanser and you're as good as new! Check out the how-to video here: https://goo.gl/n6of44
We have sampled this product and can not WAIT to share it with you! Similar to the original Precleanse Oil, the all new Precleanse Balm...
-Removes excess oils, sunscreen, make-up and pollutants.
-Dissolves buildup without compromising the skin barrier or clogging pores.
-Smoothes, calms and nourishes the skin.
-Is safe for use around the eye area, and formulated without artificial fragrances or colors.
Enter our monthly giveaway on Facebook for a chance to win one for yourself! For questions about Dermalogica, or to book a skin consultation or facial with one of our experienced skin therapists, give our front desk a call at 978 682 9722!