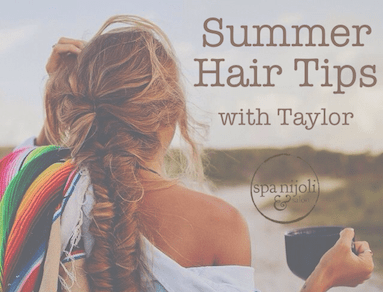 After a long day at the beach it got me thinking about how much our hair takes a beating in the summer. The chlorine, salt, sun and wind dry it out causing it to look limp and frizzy.
No worries though, I've got ya covered with my picks for in-salon treatments and products to bring your hair back to life during these fun months!
Nijoli Crystal Gel Treatment
This treatment extracts salt and chlorine out of the hair, essentially "cleansing the canvas". It's crucial to get this stuff out of the hair to stop any damage before it starts!
Need I explain? Olaplex will reconnect broken disulfide bonds in the hair, which is the major cause of hair breakage. Do you need this? Well... do you go in the sun? Use a flat iron? Swim? Color? Then YES :)
Tame your frizz and make your life a little easier from now till the end of summer! Maintain your sleek frizz free look all summer long!
Bumble & Bumble "Don't Blow It" styling cream
This cream helps hair dry your quicker while air drying. It has a UV protector and tames frizz while controlling your locks!
Here are some of my favorite hair tips to get you through the summer:
1. If you're going to swim and plan on getting your hair wet, wet hair with tap water 1st. This way your hair is already saturated with tap water, preventing it from soaking up chlorinated pool water or salty beach water.
2. Get some BB "hairdressers invisible oil primer" and keep it in your beach bag to use throughout the day! It has an spf so it will be helpful for your scalp as well!
3. Clarify your hair weekly with Oribe's "The Cleanse". It will remove some of the build up that is inevitable in the summer.
4. Use your vacation time as a time to "try on" color! At spa nijoli we have a variety of fashion colors that wash out in a couple of weeks! (This works best if hair is already pre-lightened)
Hope this info helps!! Feel free to share this post if you think other's could benefit!
Love Taylor, 
your hair Fairy! :D